Confirmed Speakers for 2019
Dale Bradford
Vice President, Western
Hemisphere Offshore
Murphy Oil Corporation
David De Pledge
Senior Development Manager –
Gulf of Mexico
Shell International
Exploration and
Production
Ryan Malone
Projects General Manager –
Gulf of Mexico
BP
Jacquelyn Star
GOM Facilities Engineering Manager,
Major Capital Projects
Chevron U.S.A.
Inc.
James West
Senior Managing Director –
Oil Services, Equipment & Drilling
Evercore ISI
---

Deepwater Executive Summit (DES) is the only focused event dedicated to deepwater oil & gas and the strategic insights of global oil and gas operators in the sector. The Summit's focused agenda provides a superior quality delegate experience. Following the highly successful inaugural event in 2018, we are pleased to announce the 2nd annual DES 2019 on November 19, 2019 at the The Westin Houston, Memorial City.
Touted by delegates as exceptionally well organized and delivering enlightening panel discussions, each of our distinguished Operator speakers will offer prepared insightful remarks, as well as participate in a Panel Session. DES provides timely information to better understand the represented companies corporate strategies in deepwater, as well as insight into the Global Deepwater market.
Key Tangible Takeaways from 2018 include:
Delivering the Metrics – Value creation is now a strategic policy of the IOC's led from a focus on value-based performance and commitment to capital discipline; higher competition for capital across their portfolios
Focus on lower break-evens by achieving accelerated delivery at significantly reduced CapEx
Leveraging the downturn through early mover advantage and strategic portfolio building
A shift towards optimization of assets and focus on advantaged reserves; move away from undisciplined reserve and production growth
IOCs are bullish on deepwater exploration with vast potential identified (Deep, Deeper and Harsh environments)
We are reaching a critical "Turning of the Tide" in the deepwater industry with Final Investment Decisions under greater scrutiny than ever before. A number of projects are starting to move forward, but the dynamics have changed and not all projects are a given.
---
Deepwater Executive Summit 2019 – Call for Participation
Both Operator and Service Company executives involved in the global deepwater industry will be joining us for this unique event, it should represent an ideal opportunity for you to network with your peer group, learn about what others have to say about the evolving deepwater industry, and share your valuable and unique insights.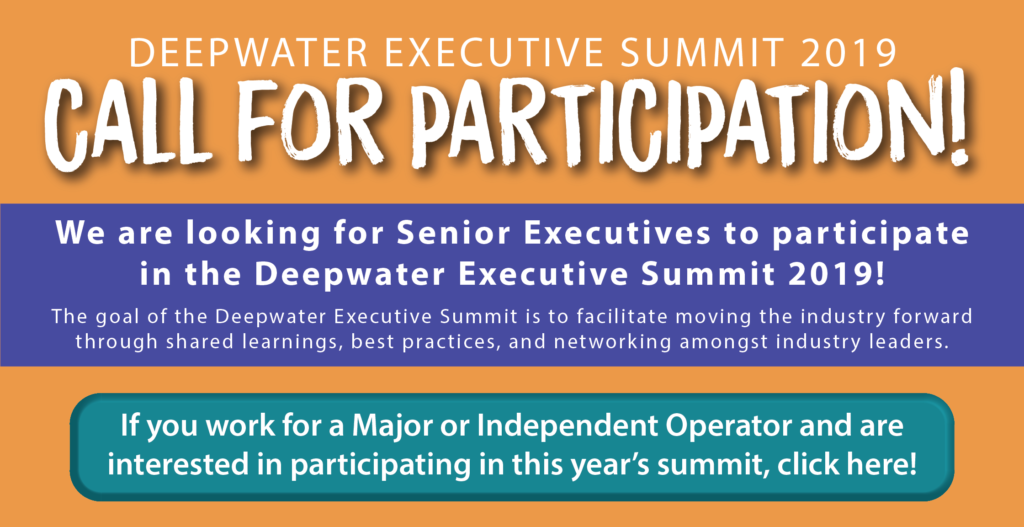 ---